In its first appearance (
Roar of the White Dragon
) Octus and Lance built a car. The car appears to be built from an early 1980's Cadillac Fleetwood Coupe. It has a V8 engine, of unknown horse power because of the orbs that Octus puts in for the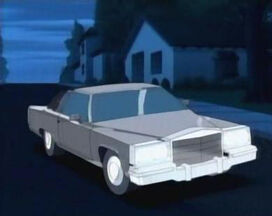 cylinders. an accurate guess is 1000HP, considering the Toyota Supra, used by Chang was only 500HP, and Lance's Cadillac was able to overtake him with ease
[

rational needed

]
. It appears to be perfectly good for racing and goes exceedingly fast. As for a faster speed, it has a type of speed enhancer causing its wheels to glow and go faster than usual. The car appears again in
Lessons in Love
, when Lance and Ilana go out for a night on the town to leave Newton and Kimmy alone to study.
Lance's Car has the styling of a 5th Gen Cadillac Fleetwood, which were produced from 1977-1986, The fact its a two door version means its a Brougham Coupe and further restricts the model year to 1981 through very early 1985. Gen 4, Fleetwoods (1971-1976), are also visually close to Lance's car, but Gen 4 did not have a two-door Coupe version. The Car would have come with an automatic transmission and originally produced only 105-135hp.
Modifications
Edit
The Car has been converted to a more racing/performance oriented vehicle from its original luxury setup. In addition to a new, alien tech enhanced motor, the transmission is now a floor manual. The car also has a dual exhaust and custom two piece rims.
Style changes include an after-market full-chrome front clip, where the chrome extends to the hood, where stock is painted with a chrome face. The new front clip also lacks all side lights, and has a chrome bump, where the black rubber strip would have otherwise been. The Rear Chrome taillights are missing the side lights, and are likely aftermarket to match the front. Chrome that has been removed (or rather painted over), is on the skirting and the side mirrors. The vinyl top's rear side lights seems to have been changed from white to read. The Dash is a complete custom redesign.